Celebrate All Things Peranakan
Discover Singapore at Singapore Changi Airport partners with the Intan, a local Peranakan Home Museum, to celebrate the living tradition of the Peranakans' multicultural heritage in Singapore.
To celebrate and showcase the unique history and heritage of the Singapore Peranakans, Discover Singapore stores have been adorned with Peranakan-influenced design elements, showcasing original artifacts from the early 1900s courtesy of The Intan, amidst an exciting assortment of Peranakan-inspired creations.
The campaign puts forth aims to create interest and enhance interactions via storytelling and impactful visual merchandising animation complemented with artifacts supported by a popular local attraction, The Intan, Singapore's home based Peranakan museum, to underline Discover Singapore's signature to Celebrate All Things Peranakan in Singapore.
Who are the Peranakans?
A Peranakan, in general refers to a person of mixed Chinese and Malay/Indonesian heritage. Many Singapore Peranakans trace their origins to 15th century Malacca, where their ancestors were thought to be Chinese traders who married local women.
Peranakan men are known as baba, while the women are known as nyonya. From the second half of the 19th century to the mid-20thcentury, Peranakans were also known as the Straits Chinese, as they were born in the Straits Settlements. While some Peranakans have retained their cultural practices, many have assimilated into the larger Chinese community today.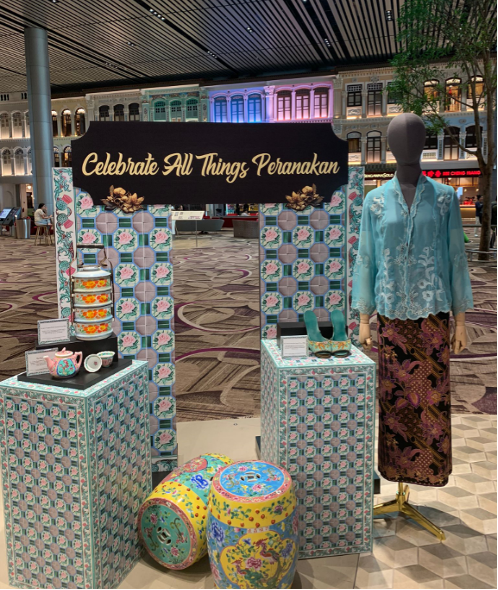 The Architecture
According to Ann Pang, Chief Executive Officer, Lagardère Travel Retail Singapore and Malaysia and Deputy Chief Executive Officer, Lagardère Travel Retail North Asia, Changi Airport was one of the first airports to debut the 'Discover' concept by Lagardère Travel Retail, showcasing a true sense of place with warm local hospitality to travellers passing through Singapore.
One of the key elements is the implementation of Peranakan style influenced in-store design echoing the city's diverse cultural precincts, architecture, and traditional ethnic motifs of the Peranakans. The embodiment of the Peranakan house touches can be easily spotted at Discover Singapore incorporating Chinese carved-wood panels, louvre shutter inspired wooden wall shelf as well as pristinely detailed and vibrant design tile motifs to depict the opulent lifestyle of the community.
The Tableware and Cuisine
Peranakans are also known for porcelain tableware featuring hand-painted auspicious motifs like phoenixes and peonies. Phoenixes are associated with femininity, marriage and grace; while peonies, in its floral splendour, represent the importance of honour and virtue.
Mundane household utensils such as tiffin carriers (or commonly known as tingkat), plates, bowls, spoons, chopsticks, teapots, and more, were beautifully decorated in bright pastel shades, which imply a cultural form of self-expression and how the Peranakan perceived life — vivid.
Some of the very wealthy families also customized their tableware with special marks, names and surnames painted on the porcelains.
In line with their culture and heritage, Peranakan cuisine is rich and full of complex flavours, typically aromatic and spicy, with ingredients that reflects its hybridised roots. Popular sweet treats amongst Singaporeans include cakes and cookies made with fragrant ingredients like gula melaka(palm sugar), coconut and pandan, which serve as a good snack or dessert.
The Costume
In addition to the architecture, tableware and cuisine, the rich and colourful culture of the Peranakan is also exemplified in two distinctive features of Peranakan fashion, the embroidery and beadwork.
The traditional costume worn by the ladies is called the Kebaya, a fitted blouse made from voile with delicate embroidery, over a batik skirt (or sarong).
This year, Singapore, together with Brunei Darussalam, Indonesia, Thailand and Malaysia nominated the kebaya for inscription on the UNESCO Representative List of the Intangible Cultural Heritage of Humanity to celebrate unique blend of shared cultural heritage in Southeast Asia and give due recognition to the artisanal skills and socio-cultural values associated with kebaya.
Peranakan fashion is more than just the sarong kebaya; it also encompasses hand-crafted accessories, bags and shoes with intricate beadworkingwhich reflect the lushness of the culture. Historically, only wealthy and cultured nyonya could afford the time for such refined pursuits like beading.